#1 - Templates
Templates make it easy to insert commonly used snippets. You can create re-usable structures for your daily notes or commonly used inputs.
#2 - Tasks beta
You can now view your completed and uncompleted tasks, separated from your regular notes through the dedicated tab on the sidebar.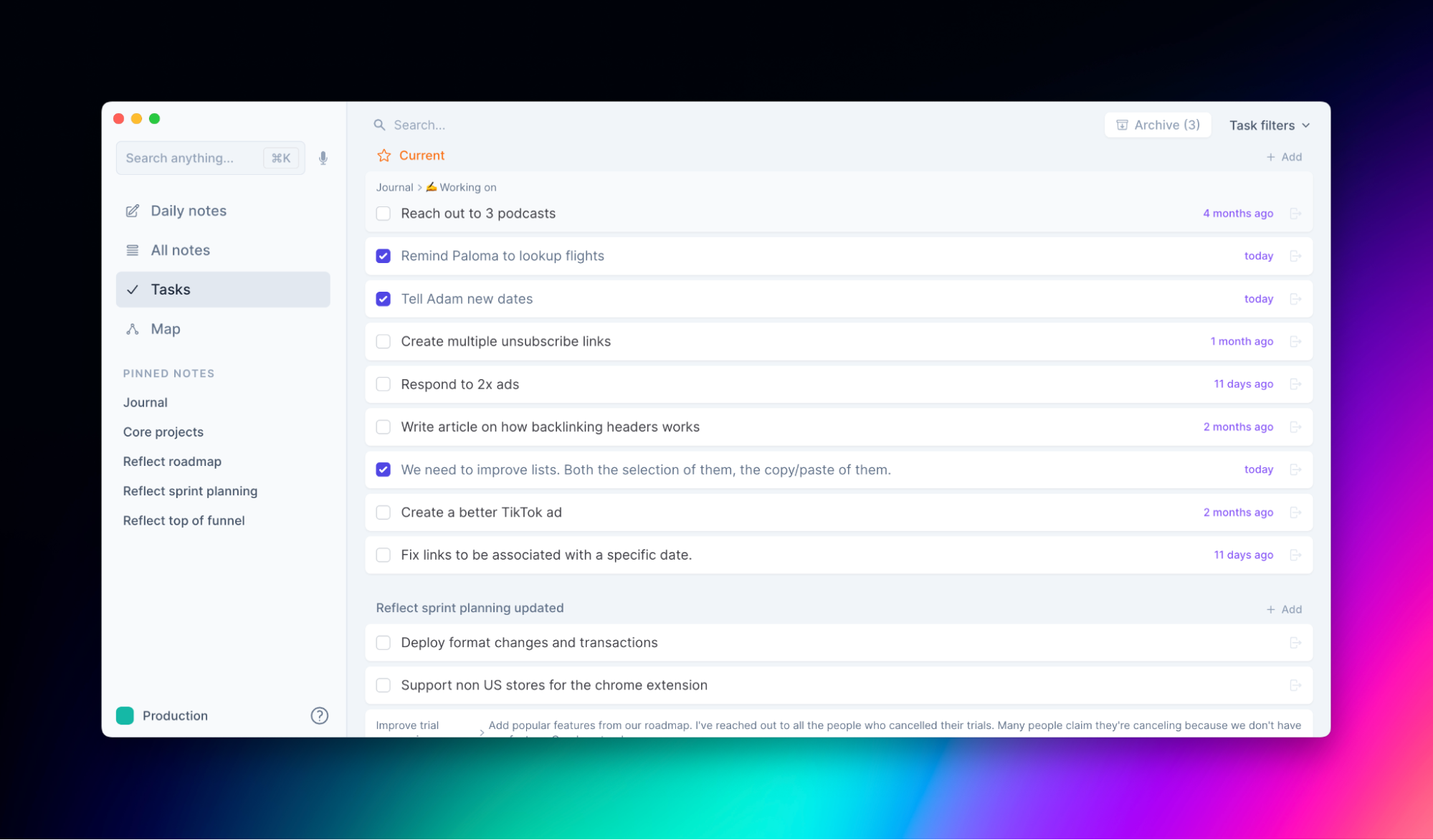 #3 - An all new editor
We vastly improved the editor, squashing bugs, optimizing speed, and improving little but important things like the format of copied text. We also launched a slash menu.
#4 - Split pane view
Now you can edit and view two notes at the same time. Split view can be activated by clicking a backlink while holding down the command key (or control on Windows).
#5 - Offline Mode and Sync
Offline changes you make to your notes are now merged through a new sync engine (using a magic editing framework called Yjs). In short, this means you can now work offline, and know everything will be synced correctly when you're back online.
#6 - History browser
Think of it like a time machine for all of your notes. It allows you to view any changes that were made, and revert back to any version whenever you want.
#7 - Enhanced Search
A new and improved search engine for frictionless recall. Not only is it much faster, but we added both prefix and fuzzy matching. Once you select a search result we also highlight and scroll to the match inside your note.
#8 - Whisper AI Audio Integration
Add voice notes as text to Reflect with near human-level transcription through OpenAI's Whisper. Just tap the microphone icon and record a message. It will be transcribed and added to your daily note.
#9 - We raised a community round
Reflect raised just over $1M from our community and a few select angel investors to grow responsibly, get profitable, and profit share along the way. We don't want to IPO. We don't want to exit.
#10 - New export options
In the spirit of data-portability, we added the ability to export all of your notes in JSON, CSV, Markdown and HTML formats.
#11 - New Import options
You can also now migrate your existing notes from even more tools. We recently launched importers for Evernote, Roam, Apple Notes, HTML files, Markdown files and OPML (Workflowy).
#12 - Add multiple Google and Outlook calendars
We know many people have more than just one calendar, so you can now add in more than one of your Google Calendars, and added Office 365 calendar support.
#13 - Design facelift
We gave the ability to assign a color to each of your graphs (if you decide to have multiple), redesigned the nav bar and split up the "account" and "support" menus.
#14 - Free student plans
Any student currently enrolled at university (with a .edu email address) can now get a free year of Reflect. To apply, please see our student landing page.
That's a wrap
❤️ Thanks to all of our users and community for making 2022 an explosive year for Reflect. We can't wait to continue!
You can see what's coming next on our roadmap here 👇